Basilica of St. Prokopius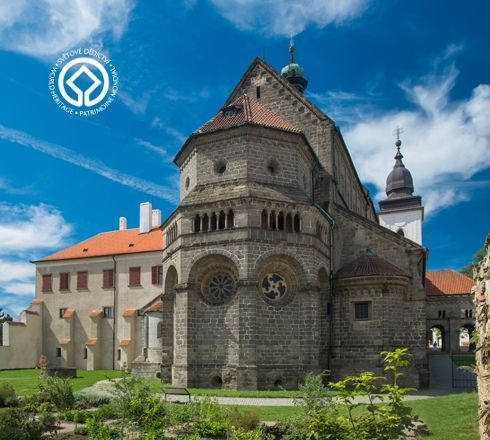 The jewel among the local sights is the three-naval Romanesque-Gothic Basilica of St. Prokopius. For its architectural uniqueness, the jewel of medieval architecture was enlisted together with the Jewish Quarter and the Jewish Cemetery as a UNESCO World Heritage Site in 2003.
In the first half of the 13th century it was probably decided to rebuild the former wooden monastery complex into a stone form. This is how, on the site of the abbey temple, the monastery church of the Assumption of the Virgin Mary originated, since the second half of the 17th century bearing the name the Basilica of St. Prokopius.
The monumental structure was greatly damaged during the siege of the town by the army of Hungarian King Matthias Corvinus in 1468 and was used for secular purposes for more than two centuries. It served as a stable, a granary and even a brewery. Only after the restoration during the reign of Waldsteins did the Basilica once again be used for sacral purposes and it was dedicated to St. Prokopius.
The most valuable elements of the basilica include the murals in the abbey chapel and the Romanesque rosette with the original ten-piece stone tracery. The crypt, the vault of which is supported by fifty columns, is also exceptional.
Celý text
Contact
TIC Bazilika
Zámek 1, 674 01 Třebíč
tel.:
+420 568 610 022
e-mail:
infobazilika@mkstrebic.cz
web: www.visittrebic.eu
Church services:
Thuesday        18:00
Wendesday    18:00
Thursday           8:00
Friday              16:30
Saturday           8:00
Sunday   7:00 a 10:00
Opening hours
January - June, September - November
Monday - Sunday   9:00-17:00
July - August
Monday -  Sunday  9:00-18:00
December
Monday - Sunday    9:00-16:00
Notice of cancelled tours
Admission
Guided tours in English or German
Full Price                                   160 CZK/7 €
Reduced Price                             130 CZK/ 6 €
Elementary School Classes   50 CZK
Family Ticket                            350 CZK/ 12 €
Note
Guided tours take place every hour, the last tour is one hour before lunch break and one hour before closing time. For a surcharge, a foreign-language tour or a tour accompanied by the interpreter is possible. Admission fees can also be paid in euros. Tours can be cancelled or revoked due to irregular church ceremonies.