Memorial Hall of Antonín Kalina, Exposition of Antonín Kalina's Children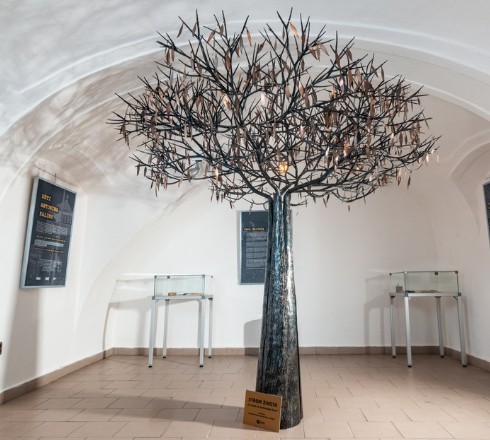 Antonín Kalina, a native of Třebíč, a shoemaker, and a first-republic communist who, thanks to his heroism, saved at least 900 Jewish children imprisoned during the Second World War in the Buchenwald concentration camp.
Nobody knew about the story of Antonín Kalina for a long time, not even the local people. He never talked about his actions even to his loved ones, though he was still in touch with some of his rescued boys. Antonín Kalina was fundamentally different from the world-famous rescuers of the Jews, such as Oskar Schindler and Nicholas Winton. He organized saving of the children in situation when his life was in danger. He was a political prisoner in the concentration camp and there were words written in his documents from the Gestapo: "Return unwanted". After the liberation of Buchenwald, Kalina remained in the camp and oversaw the repatriation of former prisoners. He died in 1990 and his ashes are placed in Olšany Cemetery in Prague.
In Israel his name enjoyed great admiration and gratitude. In 2012, Antonín Kalina was honored with the title Righteous Among the Nations, awarded to non-Jewish people in memoriam, who helped save Jews from the Holocaust.
The Memorial Hall of Antonín Kalina was inaugurated on February 17, 2017 on the occasion of the 115th anniversary of Kalina's birth. In addition to his life, the exposition shows mainly examples of his bravery.
Two years later, the Exposition of Antonín Kalina´s Children, named after the eponymous book by journalist Stanislav Motl, was opened. It recalls the seven rescued boys of nearly a thousand who later became world influential people in several fields, and among whom the Nobel Prize winners are and the like. The eighth portrait presents Jindřich Flusser, Kalina's closest co-worker, who was involved in the rescuing the imprisoned children in Buchenwald. All the rescued boys are symbolically represented in the exhibition on the metal Tree of Life in the form of leaves bearing their names, made by artistic blacksmiths from the Secondary Technical School in Třebíč.
Celý text
Opening hours
January - June, September - November
Monday - Sunday 9:00-17:00
July, August
Monday - Sunday 9:00-18:00
December
Monday - Sunday 9:00-16:00
Admission
Full price              40 CZK
Reduced price    20 CZK
School Classes   10 CZK