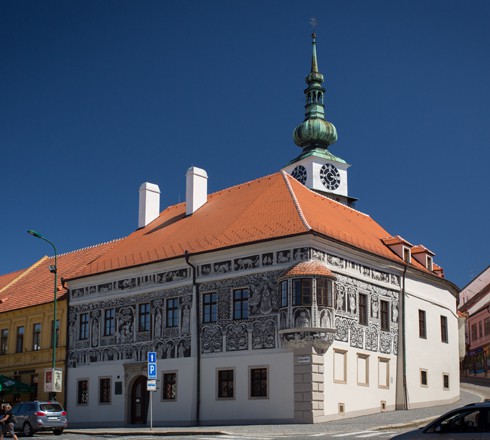 One of the most beautiful Renaissance houses in Třebíč which was constructed to order of the Italian merchant Francesco Calligardi for his love in the 16th century. Italian builders erected to their compatriot a beautiful Renaissance building decorated with figural sgraffitoes.
The house has remained to be a symbol of love up to these days; the ceremonial hall is located on the first floor. In addition to the Kaiserpanorama exhibition - the forerunner of the cinematograph, the ground floor houses an art gallery where short-term exhibitions, especially of regional artists, take turn.
Celý text
Contact
Galerie Malovaný dům
Karlovo náměstí 53, 674 01 Třebíč
tel.:

+420 568 610 027
Opening hours
January - December
Thuesday - Sunday 10:00-12:00, 13:00-17:00
Admission
Full Price            35 CZK
Reduced Price   25 CZK
The admission fee includes a seeing the Kaiserpanorama exhibition and a current exhibition.