Holocaust Traces in Třebíč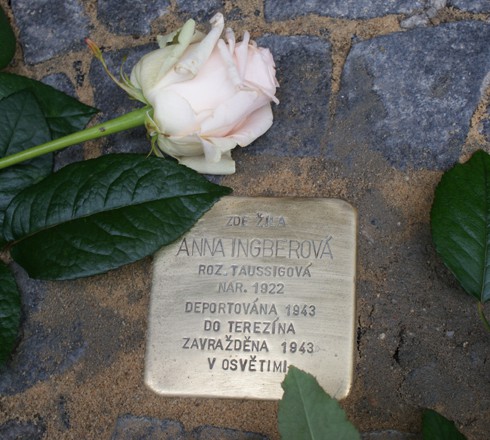 A number of small reminders of Třebíč victims of Holocaust can now be found in many places around the town. These include the stumbling stones (Stolpersteine).
World War II hit the lives of Jews who had lived in Třebíč for centuries alongside their Christian neighbours. In 1942 the Jewish population was deported to Terezín and subsequently to death camps in the east. Only a few people survived the war, and they could no longer restore the Jewish community. However, there is still the exceptionally well-preserved Jewish Quarter, which is unique from an urban and historical point of view.
In front of some houses of Třebíč Jews, the so-called stumbling stones are placed. These are symbolic cobblestones reminiscent of Holocaust victims. The cube carries a brass plate with data about a missing person: name, date of birth, deportation and death.
The first three stumbling stones were placed in Třebíč in 2013, two of them in the Jewish Quarter, the third in Charles Square near Black House. The stone placing continued in 2016, 2018 and 2019. Due to covid situation, the event in 2020 was postponed to the next year.
Commemorative plaques and memorials to the victims of Nazi persecution can be found, for example, in the Jewish Cemetery, the Rear Synagogue and the Front Synagogue in the Jewish Quarter, near the Secondary Grammar School building on Masaryk Square or on Gorazd Square.
Celý text
Note
Since 2017, a public collection has been established in the Rear Synagogue, the proceeds of which will be used to produce other Stolpersteins