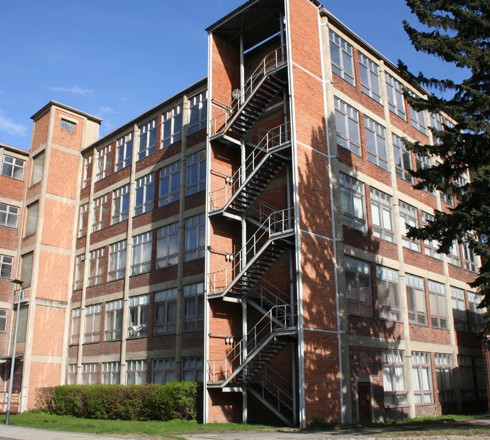 The town of Třebíč is not only rich in historical monuments, but also in modern and architecturally significant buildings of the interwar period.
The industrial building of the UP factory Třebíč in the Rondo-Cubist style is one of them. The author is Josef Gočár, the most important Czech architect of the first half of the 20th century. Rondo-Cubism, which is a Czech specialty, is applied here at the administrative part of the former plant by means of a stylized pillar order and at the production wing by a combination of arched style and massive cornices.
In the 1930s, another well-known architect, Bohuslav Fuchs, created a project of the City Savings Bank at Charles Square. A modern building with typical features of functionalist architecture emerged: the harmony of interior structure and exterior appearance, the use of glass and reinforced concrete and the use of light as a compositional element. His work also includes the original river baths, which served as the first public swimming pool in Třebíč. The remarkable locker room building is now part of the Polanka swimming pool.
Also worth mentioning are the reconstructed buildings of the former shoe factory in Borovina, built by the founder Tomáš Baťa in the 1930s. Production and administrative buildings were built according to Baťa's standard plans. The bold combination of reinforced concrete skeleton, brickwork and large glazed areas was designed by architects František Gahura, Vladimír Karfík and Miroslav Lorenc.
Celý text
GPS
ÚP factory
49°12'39.101"N, 15°52'54.971"E
Municipal Savings Bank
49°12'57.175"N, 15°52'40.896"E
River Spa
49°12'53.533"N, 15°52'2.887"E
Former Baťa footwear factory
49°12'22.687"N, 15°51'21.675"E