Rear Synagogue and Seligmann Bauer House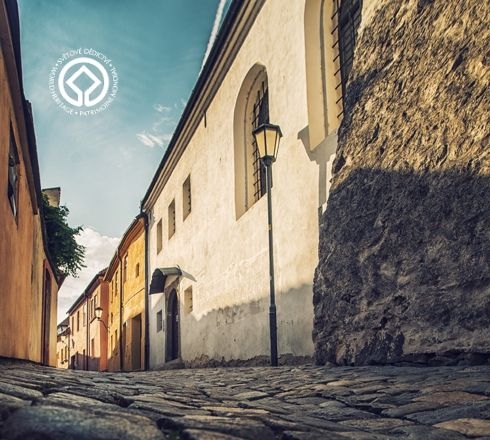 The Rear Synagogue was built around 1669. The interior is decorated with paintings from the early 18th century, one of the most beautiful Baroque paintings in Moravia. In its neighbourhood, there is a house built before 1798, which, after extensive reconstruction, was converted into a Jewish Museum now known as Seligmann Bauer House.
The Rear Synagogue had been used for worship purposes until the 1920s, then it was a leather storeroom and, after World War II, it served as a fruit and vegetable store. It was not until 1989-1997 that it underwent an extensive reconstruction and it was opened to the public as a museum. In 2003, it was listed as a UNESCO World Heritage Site as part of the Jewish Quarter. In the women´s Gallery of the synagogue, there is an exhibition of the Jewish ceremonial object (including a Torah scroll) and a unique model of the Jewish Quarter at a scale of 1:100, capturing the state of the quarter in 1850.
Seligmann Bauer House, standing next to the Rear Synagogue, presents a unique exposition of the Jewish family housing in the interwar period. On the ground floor there is a grocery store, on the first floor a kitchen, a bedroom, and a butcher's shop in the yard. The attic of the building is adapted to a lecture hall.
Celý text
Opening hours
January - June, September - November
Monday - Sunday     9:00-17:00
July, August
Monday - Sunday     9:00-18:00
December
Monday - Sunday     9:00-16:00
Admission
Guided tours in English or German
Full Price                                       160 CZK/ 7 €
Reduced Price                                130 CZK/ 6 €
Elementary Schoool Classes     70 CZK
Family Ticket                               370 CZK/ 12 €
Note
Guided tours of the Rear Synagogue and Seligmann Bauer House take place every hour except 12:00; the last tour an hour before the closing time. For a surcharge, a foreign-language tour/tour with the interpreter is possible. For a fee of 40 CZK it is possible to see the interior of the Rear Synagogue - without a guide. The TIC Rear Synagogue offers the option of payment in euro when buying tickets.