Water Tower Kostelíček in Třebíč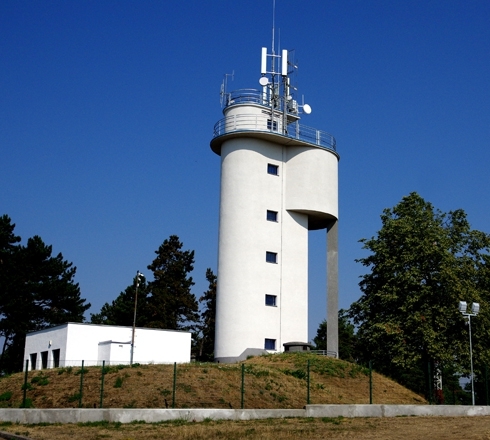 The reinforced concrete structure located above the town on Strážná hora near Kostelíček, at 480 m above sea level, began to be built in 1936.
The water tower served as a water reservoir for the town. The water was extracted from the Heraltice forests, from which the water is still supplied to the western part of the town and is used to make the Třebíč soft drink "zonka" (ZON). The reservoir had served until the turn of the 1970s and 1980s. After that, it ceased to suffice and was replaced by the connection to the water supply system from Mostiště and Vranov dams.
At present, the water reservoir serves as an exposition of the development of the Třebíč water supply and in the former water tank is a projection room. The observation platform, located 20 meters above the ground, offers a unique view of the town.
Celý text
Contact the guide
during the opening hours
tel.: +420 603 198 662, +420 568 610 021 
e-mail: info@mkstrebic.cz
web: www.visittrebic.eu
Opening hours
May, October
Saturday, Sunday 10:00-12:00, 12:30-17:00
June, September
Monday - Sunday 10:00-12:00, 12:30-17:00
July, August
 Monday - Sunday 10:00-12:00, 12:30-18:00
Admission
Full Price            50 CZK
Reduce Price     30 CZK
Note
 School groups 20 CZK