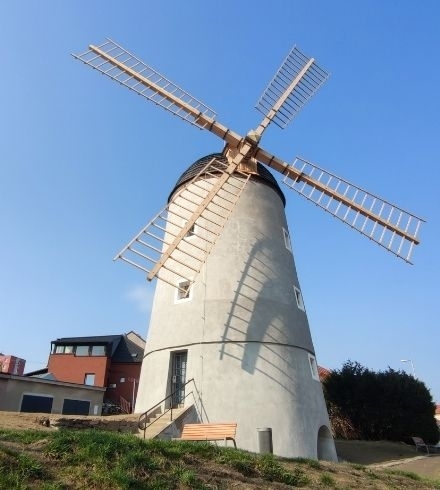 The windmill in Třebíč, also known as Větrník, was built by the industrialists František and Karel Budischowsky for the needs of their tanning plants in the local part of the town called Borovina. According to the original design, the mill was supposed to be wooden, but finally the building was made of stone and brick masonry.
A multi-storey building of the Dutch-style mill, 8 meters in diameter, was built at the railway line in 1836 and was used to grind the tree bark for tan, used by tanneries to tan leather.
The mill crushed the bark until the second half of the 19th century. Since 1929 it served as an emergency apartment and the last tenant moved out in 1977. The building was then modified as a technical monument.
Celý text
Contact the guide
during the opening hours
tel.: +420 605 234 708, +420 610 021
e-mail: info@mkstrebic.cz
web: www.visittrebic.eu
Opening hours
May, October
Saturday, Sunday 10:00-12:00, 12:30-17:00
June, September
Monday - Sunday 
10:00-12:00, 12:30-17:00
July, August
 Monday - Sunday 10:00-12:00, 12:30-18:00
Admission
Full Price            50 CZK
Reduce Price     30 CZK
Note
 School groups 20 CZK